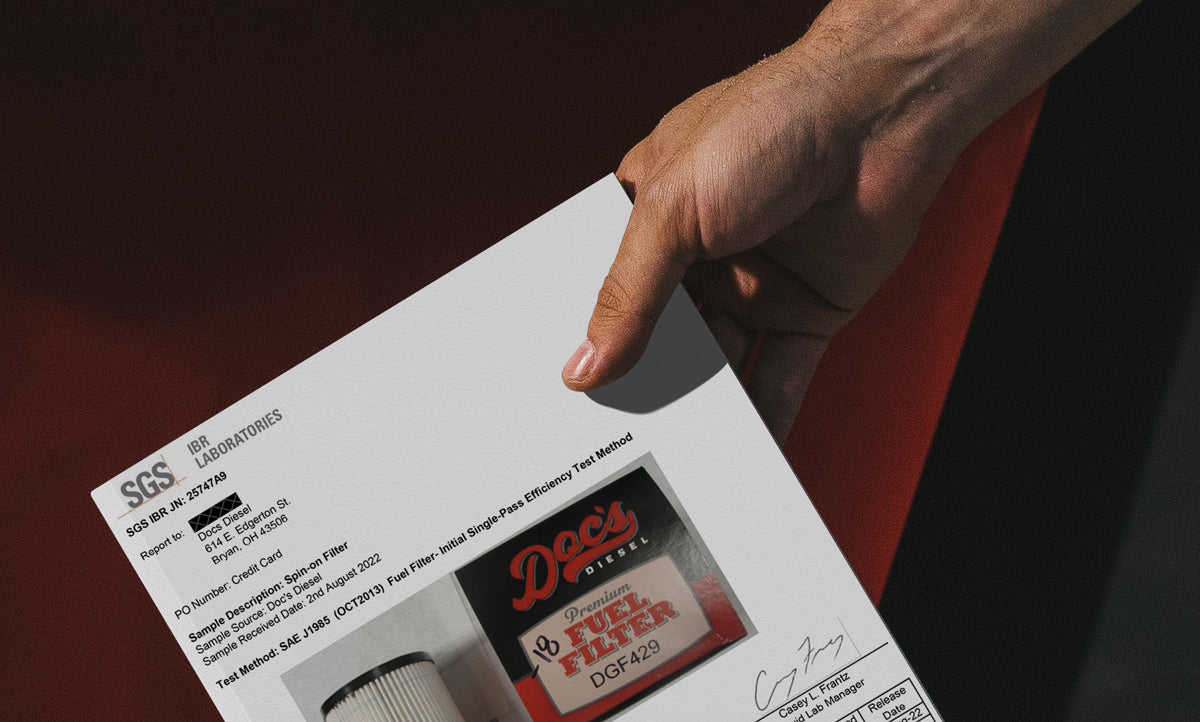 See our current results below. We will continue to update as more products go through testing.
OFFICIALLY
SGS SAE J1985 3rd Party Tested
With over 3000+ 5-star reviews, we wanted to go one step further in customer trust by providing, SAE J1985 3rd Party Testing of our parts. We did a full upstream and downstream efficiency testing along with a single pass efficiency test method. Currently our main fuel filters have been 3rd party tested, and we will continue to report more results as receive them back.
DOC'S Ram 6.7L/3.0L Cummins Fuel/Water Separator 2019-2022 | Replaces 68436631AA
SEE RESULTS
DOC'S Ram 6.7L Cummins Fuel Filter 2010-2022 | Replaces 68157291AA
SEE RESULTS
DOC'S Ram 6.7L Cummins Fuel/Water Separator Filter 2013-2018 | Replaces 68197867AA
SEE RESULTS
DOC'S Chevrolet/GMC 6.6L/3.0L Duramax Fuel Filter 2017-2022 | Replaces AC/Delco TP1015
SEE RESULTS
DOC'S Ford 6.7L Powerstroke Diesel Fuel/Water Separator Filter 2017-2022 | Replaces FD4625
SEE RESULTS
DOC'S Ford 650/750 6.7L Powerstroke Fuel Filter 2017-2019 | Replaces FD4626
SEE RESULTS